An innovative upcycling material
with its own distinctive charm
200,000 tonnes of waste (stems, seeds, skins) – known as pomace – are generated in Germany every year. Most of this pomace is not put to use. As a sustainable designer, I feed this biomass into a new lifecycle – in other words, I transform renewable grape pomace into materials and products that are also biodegradable. The residues that remain in the wine press are combined with natural binders to create a material that is ideal for wine chillers and lights with an appealing appearance, feel and scent.
tresta® – organic products
from domestic biomass
Color, odor, sapor. Colour. Odour. Taste. With this succinct formula, the Romans summed up the essence of wine. The wine must look good, smell nice and have a full-bodied flavour. The perfect wine experience appeals to all the senses. It is a philosophy that tresta® products have very much taken to heart. Their unique design is an homage to the "Schlegel" bottle for which Mosel wines are known. When separated, they are transformed into a light and a wine chiller: the Lichtgewӕchs pomace light and the Kühlgewӕchs pomace wine chiller.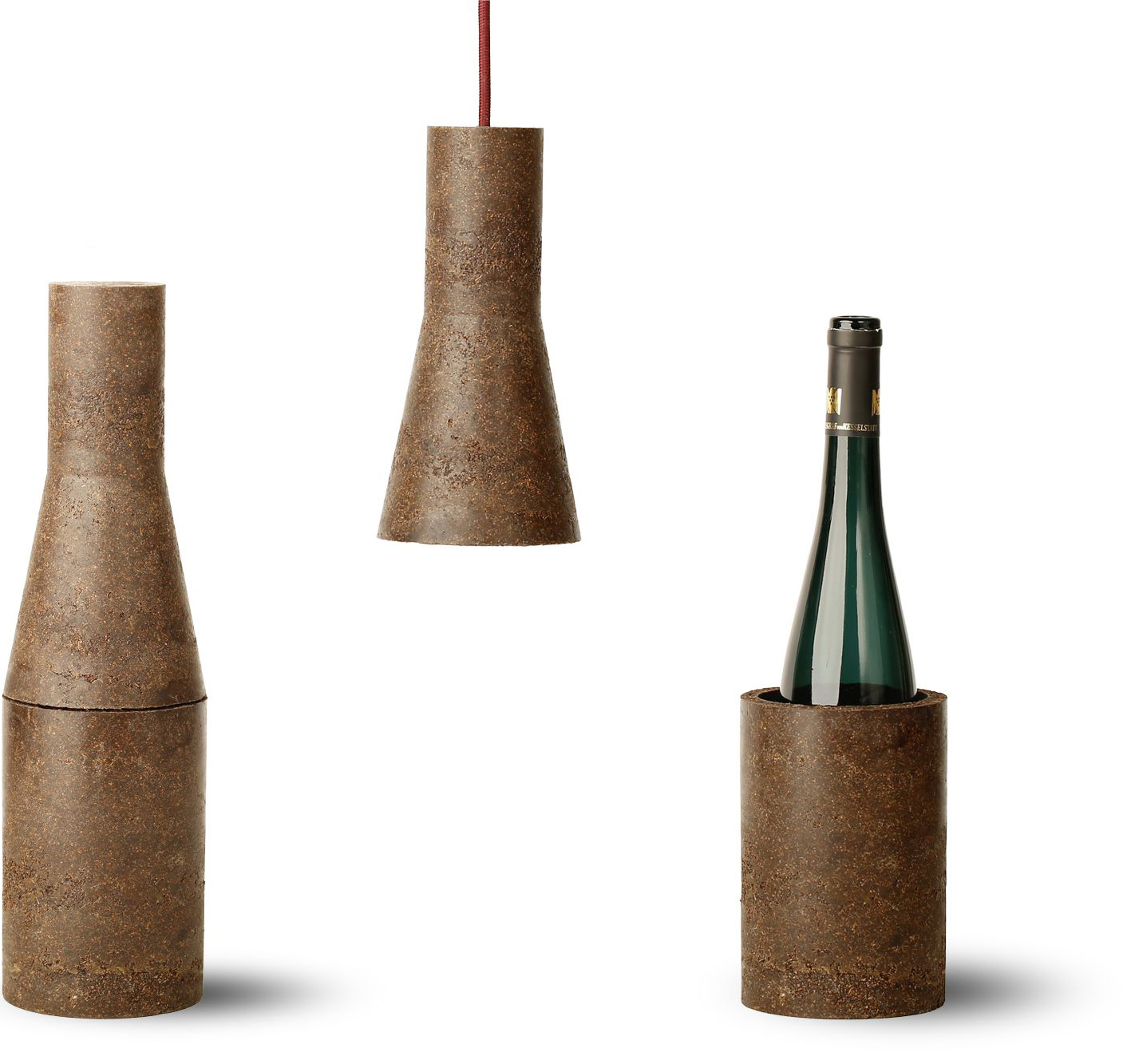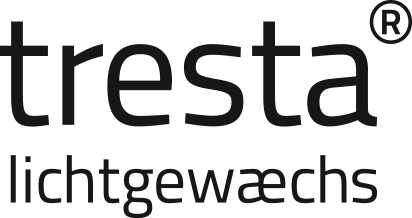 The design encapsulated in this light fashioned from tresta® is not only a treat for aesthetes, but also for those with a delicate sense of smell. That is because it is not only the design that is organic, but the material as well. Even as it spreads warm light, the light exudes a discrete scent of must. This means it is predestined for use in cosy wine bars and dining rooms. Depending on the type of grape and pressing, the material may be somewhat lighter or darker. It is accentuated by a linen cable in a variety of colours.
You would like to have this special light – click here to enter the shop.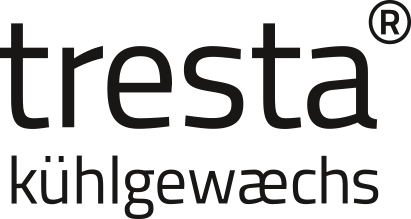 Wine is best kept cool, and this is especially true for white wines. The ideal temperature at which a fruity Riesling wine should be consumed is a refreshing 9 degrees – and the Kühlgewӕchs pomace wine chiller is perfect for the job. It fits snugly around the wine bottle, keeping the contents cool and fresh. With its natural appearance, the wine chiller made from rugged tresta® is a perfect fit for any surroundings and any occasion. The grapes that are the foundation for the wine are practically cooled by their own skin. What wine chiller can make this claim for itself? You would like to have this special wine chiller – click here to enter the shop.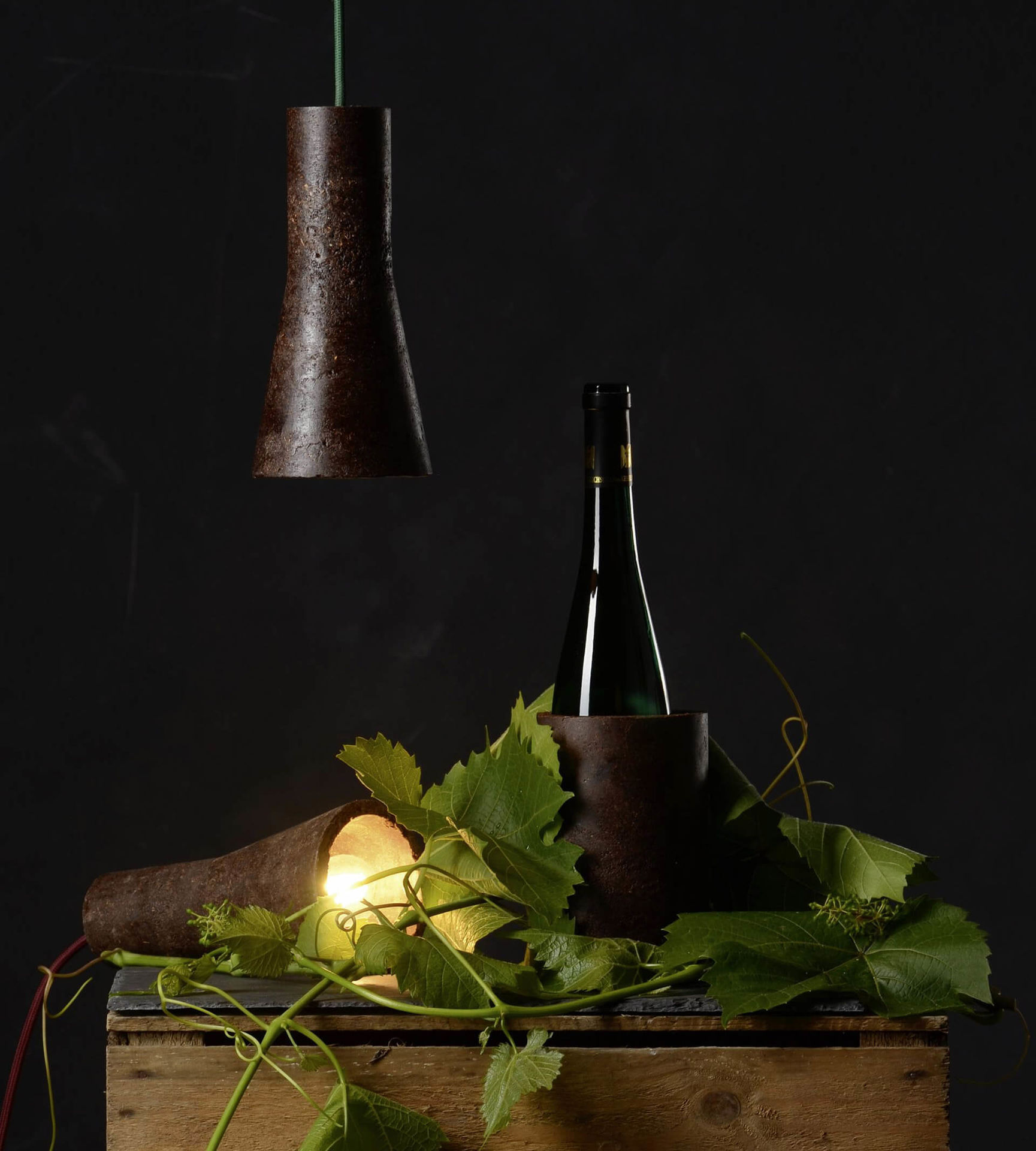 "I used to think that the best thing that could be made from grape pomace was pomace brandy. tresta® shows just how much more potential this biomass has. The jury was impressed by the depth of research into the aesthetic and technological qualities of this material and its possible combinations with other natural substances."
Hartwig Gerbracht, Member of the Jury for the Rhineland-Palatinate Design Award 2017
tresta® has also been covered in the following:
LICHT Ausgabe, "Von der Traube zur Lichtquelle" 1 | 2021
Handelsmagazins Trend and Style
Red Dot Design Yearbook 2018|2019
Book "Materials in Progress – Innovationen für Designer und Architekten"
dwell (US magazine), report "Material Obsessions" – issue March/April 2019
Trend and Style (German trade magazine), report "Tickende Zeitbombe, Plastikflut" – issue 2|2019
designreport. (magazine for form and function, sense and value) – issue 4|2018
glanzvoll – issue Autumn 2018
Verpackungsrundschau special issue: "Verpackung + Marketing 2018" (Packaging + Marketing 2018)